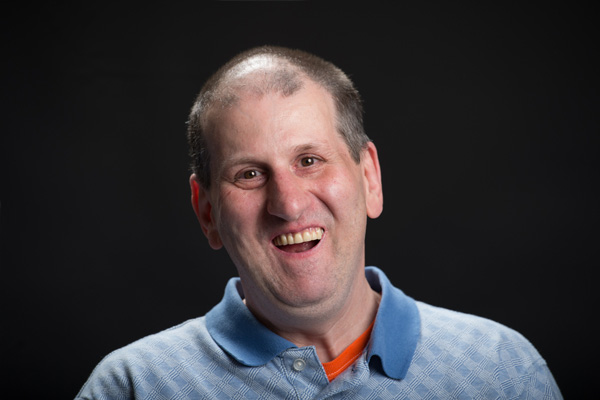 Recorded at KenCrest Services April 2015.
About Ralph
Ralph has worked at KenCrest for 30 years.
Interview Highlights
LIVES LIVED APART interview with Ralph recorded April 23, 2015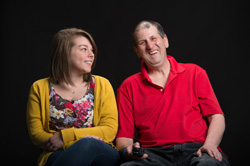 NICOLE'S COMMENTS:  "So, based on my work with this project and my work with Ralph and just like experiences that I've had, I'm actually going to law school to pursue public interest law. I think that there's a lot of strides that have been made for people with disabilities in terms of advocacy and just rights that the population has, but I think there's so much more that needs to be done. Sometimes when I'm driving I'll just think about like this project and how just talking to one person for one hour really changes the way that you think about things.
Ralph said that he makes a lot of money. We found out later that everyone [at KenCrest], like is making you know, less than two dollars an hour. It just really makes you evaluate like the way you think about things and like sometimes you get to work and you're like, oh man I didn't get a raise like, but wait... it just challenges the way that you think about things, which is then something that like has been an ongoing theme in like my life in general, but especially with this project. It just challenges the way that you think about things."
Nicole: OK, my name is Nicole Sardella and I'm interviewing Ralph at Ken Crest and today is April 23rd and I have Marjorie in the room with us today. So thanks so much, Ralph, for agreeing to be interviewed. So how about we get started with growing up? So can you tell me where and when you were born and what your birthday is?
Ralph: OK. Sorry, sorry. I'm sorry. I was born...
Nicole: Ralph just handed me his driver's license.
Ralph: It's not a drivers, it's an ID.
Nicole: Oh, his ID so he was born on August 9th, 1962.
Ralph: Yeah.
Nicole: Thank you very much and right now lives in West Chester, Pennsylvania and we are in a town called Malvern.
Ralph: Malvern.
Nicole: Yeah.
Ralph: Yep.
Nicole: Thank you and so, Ralph, how about you tell me what was one of your earliest memories when you were a little kid?
Ralph: Stupid Pennhurst. Pennhurst, I was stuck at Pennhurst. I don't like Pennhurst , live by myself, and I went home, I'm sick. My mom and dad kept an eye on me. I went to school and I quit school and I worked here. I do the bathrooms and sometimes I (inaudible). I put paper in a basket and I tape it up and I eat lunch too. And I have lunch and after lunch I do my halls. At 2 o'clock I see my girlfriend, Helen and that's my day. My memory is ... and my mom and dad and Carl and... I remember Easter, Christmas, and my birthday. And Helen, I remember her on my birthday too.
Nicole: So where do you and Helen go for your birthday?
Ralph: McDonalds. I pay and we come back here and work.
Nicole: And is that where you go for Helen's birthday too?
Ralph: Yep.
Nicole: So tell me how you met Helen. Tell me more about her.
Ralph: Me and her met in December. I know her a long time ago. She started work here.
Nicole: OK.
Ralph: Helen's my girlfriend. (Inaudible) That's my watch. Sorry.
Nicole: Time check.
Ralph: Yep. I dated her... I bought a ring for her too.
Nicole: Did you do that already or are you going to do that?
Ralph: I'm going to do it.
Nicole: Well hopefully she doesn't hear this before. So that's great and how long have you known her? For a long time?
Ralph: Yep. Yeah, a long time. I know her mom and dad. I don't know who her dad is but her mom and sister. I know her family. A long time ago. I've known her a long time.
Nicole: Yeah, that's really cool. So you see Helen a lot. What else do you do here? So you work. Do you get here early in the morning?
Ralph: I get here early in the morning.
Nicole: Early?
Ralph: Mm-hm and I get myself coffee and then bathrooms. I do all the bathrooms too. I get paid to do that, a lot of money. I clean the bathrooms, I clean the carpet and clean the house too. I clean the house. Oh boy. I clean the house up. We go out, go to the bank, and get hoagies, eat sometimes. Eat in the car... sometimes. (inaudible) summertime. I love her too much. I love her too much and that's it.