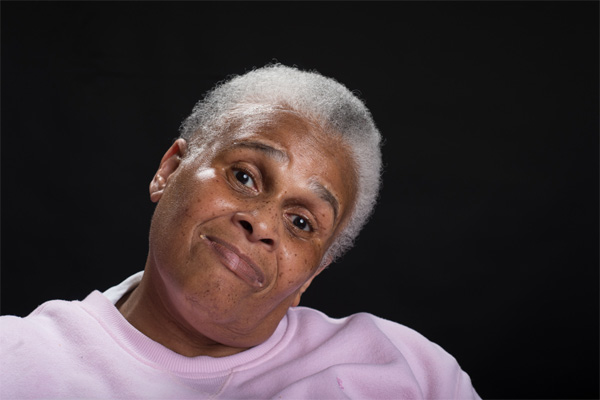 Recorded at KenCrest Services April 2015.
About Edith
Edith has worked at KenCrest for 12 years.
Interview Highlights
LIVES LIVED APART interview with Edith recorded at KenCrest Services April 23, 2015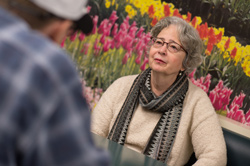 GAIL'S COMMENTS: "I guess what struck me when I was doing it, and stays with me still, is that there is so much more that unites us than divides us. People are people. Everybody has a story. And it's just a question of eliciting it from them really.
[This experience] made me, to a certain degree, question the nature of institutions—quasi-institutions of special situations for people with disabilities. I think that there are really two sides to that question and they need to be explored deeply. But I think we, as a culture and a society, need to devote more resources and more attention to human needs, and this is one area of human need that merits greater resources and greater attention. " 
Nicki: OK. We're recording and this is Nicki (inaudible) and I'm here at KenCrest in Malvern, Pennsylvania on April 23rd, 2015 for the Lives Lived Apart Project and also in the room are... I'll let them introduce themselves.
Gail: My name is Gail Freedman. I'm with the project as well.
Nicki: And can you tell us your name?
Edith: My name is Edith Hampton.
Ami: Thank you.
Edith: Thank you.
Nicki: And also in the room is...
Anita: I'm Anita.
Nicki: And you can just say why you're here.
Ami: Oh, I'm here with Edith. I'm Edith's 101 staff.
Nicki: OK. Thank you so much.
Anita: You're welcome.
Nicki: OK, Edith, like we said before we started recording both Gail and I are going to ask you some questions and we're here to listen to whatever you want to share with us about your life. OK?
Edith: Yes.
Nicki: Great. Gail, do you want to start or do you want me to start?
Gail: OK I'll start. Edith, can you tell me how old you are?
Edith: 77.
Gail: And where you were born?
Edith: I was born in Philadelphia. Philadelphia, born. My mom put me out, put me in prison, because I was at this old man's house. He was sick and I was helping him out. My sister was around to the corner, went to my mom, and told her I was in this man's house so I had to leave him in the house by himself. He had no money and no clothes and I feel sorry for him. So the cop came around and I come down the road. My mom told the cop on me. My mom said "What are you doing in that man's house?" I said "Mom, I'm just taking care of him and helping out." I said "If you was old like that and nobody wanted to take care of and wanted to help you." I said "I bet you would feel sad." But no my mom had the cops at the house and I walked down. The cop grabbed me, put cuffs on my hands, and put me in jail. So I didn't see my mom but my mom and daddy, they drank and go out when they want to but me? I can't go nowhere but the house. Every time I want to go out with my boyfriend, she get mad at me and ground me and my grandma and grandpa told them I don't think it's fair. Why can't Edith have a boyfriend? But no my mama didn't like me. All my daddy and mom did was beat me up, punch me all in the face, and I didn't even want to fight him but he want me to fight them but I didn't. So I didn't say nothing. So...