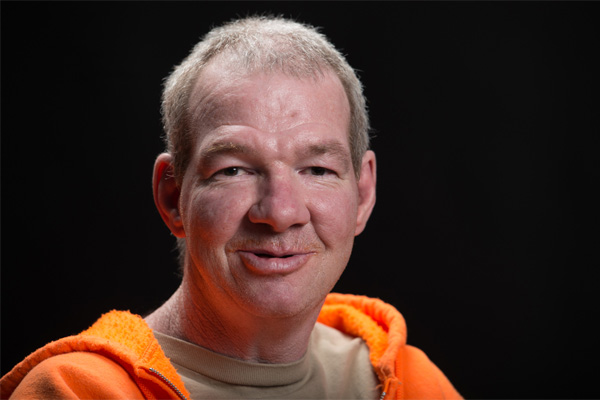 Recorded at Selinsgrove Center April 2015.
About Jim B.
Jim has lived at Selinsgrove Center for 36 years.
Interview Highlights
LIVES LIVED APART interview with Jim B. recorded April 11, 2015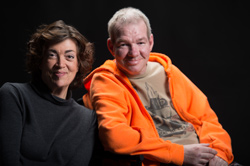 SUSAN'S COMMENTS:  "I'm thinking of what you don't see. So you don't see [Jim's] sense of humor. He has a pretty wicked sense of humor and when he's relaxed, really likes to laugh and smile. And you don't get a sense of that here, but I think [you] hear he is present. And he is making choices when he's not responding, it's not because he's not listening. I think that through the clip, the listener will get the sense that this is someone who is thoughtful and maybe not afraid to make the choice to say 'No, I don't want to talk about that'. Which, I think says a lot for him. It's a lesson I could learn for myself actually.
  
I hope that one of the outcomes of this project is that there will be people who experience the exhibit and say 'You know what? This person is like me and because we have this thing in common, I 'identify' and if I identify I can empathize, and if I can empathize I might be moved to do something to make it better for someone else."
Susan: Our recording is on the counter, sure. OK, OK. Now that we're talking we don't have to worry about this at all. It's just going to sit here and be our silent friend. So, my name is Susan and I am interviewing Jim at Selinsgrove Center in Pennsylvania. It's April 11, 2015 and we're talking with Jim for the Temple University Institute on Disabilities Project Connecting through Story: Lives Lived Apart and in the room with Jim and myself are Debbie and Colleen and Bruce. OK. So already I know some things about you. I know that you like the warmer weather because you like to be outside.
Jim: Yes.
Susan: Yes. Can I talk to you a little bit about when you were a child? Nope? OK. So maybe some favorite things? I know you've lived here for a while. What do you do on... what's like your normal day here? When you get up you have breakfast?
Jim: Breakfast.
Susan: And then... well we were talking about going into the room where you can build things.
Jim: Yeah.
Susan: Yeah.
Jim: Trucks.
Susan: Trucks and these are model trucks, right?
Jim: Yeah.
Susan: Yeah. How long have you been building model trucks?
Jim: A long time.
Susan: What do you like about it?
Jim: I love the model trucks.
Susan: When you put them together there's a piece of paper that tells you what to do?
Jim: Yeah.
Susan: OK and do the pieces fit together? Do you use glue? How do they stick?
Jim: I use super glue.
Susan: Super glue. OK and then when you're done with the truck you could actually roll it? You can move it?
Jim: No. You have to put it on my nightstand.
Susan: Your nightstand? Do you have a lot of trucks in your room that you built?
Jim: Three.
Susan: Three?
Jim: Four.
Susan: How long does it take to build a truck?
Jim: Not long.
Susan: No? Like can you do it in a day?
Jim: Yeah.
Susan: OK. Are there other models you can build aside from trucks?
Jim: I build monster trucks too.