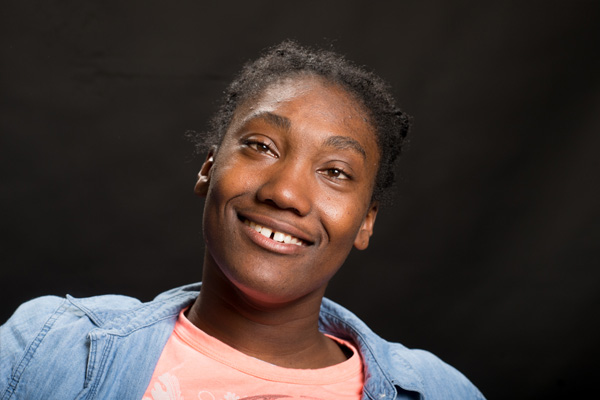 Recorded at KenCrest Services April 2015.
About Naomi
Naomi has worked at KenCrest for 1 year.
Interview Highlights
LIVES LIVED APART interview with Naomi recorded April 22, 2015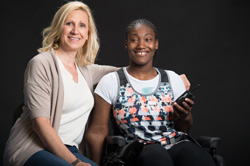 Lisa: Testing one, two, three. Testing one, two, three. You're good. OK. I'm going to pause it.
Katie: There we go and so the first thing I'm going to say; my name is Katie and I'm interviewing Naomi at KenCrest on April 22nd, 2015 and Lisa and Al are also in the room with us. Just so we all know who's here. So Lisa had asked if we would bring something that meant something to us so this is kind of... have you ever done these before?
Naomi: Yeah.
Katie: Like a fuse beads or I think that's what they're called so I actually used to be a schoolteacher and had a class pet. It was a turtle named Squishy. Have you ever seen Finding Nemo? I love that movie. So you know in Finding Nemo where she's like "And I will call you Squishy and you will be my friend" so that's what our class turtle was named so one of my students made this for me because I was living in California and I moved back to the east coast so this was a present they made me so because I had to leave my turtle there because there was no way to bring him because he lived in water so there was no real way to bring him back at least no way I could figure out so this is all I have left to remember Squishy. I was going to share that with you. Is there anything... do you like pets or animals at all?
Naomi: I only like fish.
Katie: Oh, OK.
Naomi: Goldfish.
Katie: Yeah?
Naomi: Yeah.
Katie: That's kind of... so the turtle I have lives, like I said, lives in water but actually you know what? He would eat goldfish. I never fed him a goldfish but they said that he would eat them so he would eat them if we fed them to him but I felt like that was too mean. So I wanted to know a little bit about you and I was wondering how long you have been coming to KenCrest or yeah, KenCrest services? If you could tell me a little bit about that?
Naomi: Lisa... I don't know.
Lisa: I think I'd like to hear you tell us because I might have... I might have the story wrong. Maybe can you tell me about when you first came to KenCrest? Do you remember the first day you came to KenCrest?
Naomi: I forget.
Katie: What about; what were you doing before you came to KenCrest? Were you living at home or were you going to school?
Naomi: I used to go to school.
Katie: Oh will you tell me a little bit about some things you did at school?
Naomi: Math, science, social studies, music, and art.
Katie: That's a lot of stuff. Was there one that was your favorite?
Naomi: Music.
Katie: Will you tell me about a favorite memory you have from music?
Naomi: I used to dance and sing and sit on the bean bags.
Katie: Oh I never heard that, what's a bing bang?
Naomi: Like a bean bag you sit on.
Katie: Oh, like a bean bag. Got it, cool. Do they have bean bags here at KenCrest?
Naomi: Yeah.
Katie: Do you like to... are you able to sit on them here too?
Naomi: There's one in gym.
Katie: Oh yeah?
Naomi: Yeah.
Katie: What color is it?
Naomi: Blue.
Katie: Blue. Do you have a favorite color?
Naomi: My favorite color is pink.
Katie: Oh, nice. Yeah. I like that color too. I think that's kind of like a pink-y purple. So what about before you came to Ken Crest either at school or was there somebody in your life that was special to you?
Naomi: My teacher.
Katie: Oh, OK. Would you tell em a little bit about your teacher?
Naomi: She used to help me with my math.