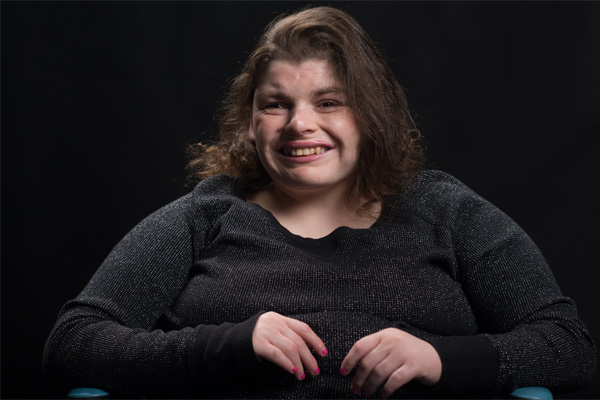 Recorded at Selinsgrove Center April 2015.
About Jennifer
Jennifer has lived at Selinsgrove Center for 8 years.
Interview Highlights
Lives Lived Apart Interview with Jennifer Recorded April 11, 2015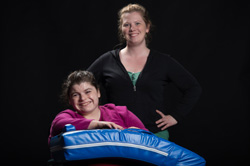 PICTURED ABOVE: Jennifer with her interviewer Liz
Liz: Oh you prepared? Thank you for that. That's great. Some people were here yesterday talking about today? I'm so happy to be here because I grew up really close to here like 15 minutes away from Selinsgrove. So what do you have there, Jenn?
Jennifer: Do you want to see it?
Liz: Yeah! Oh wow! Can I hold it? You hold it? Great. So can you tell me about these dogs? What else do you have?
Staff: Oh the writing?
Liz: Those are their names? Gabriel...
Jennifer: The name is on the back.
Liz: Uh-huh.
Staff: Sure.
Liz: What's that?
Staff: Want me to put those back on your clipboard?
Jennifer: (inaudible) What the names, this is the names.
Liz: Mm-hm. Those are some beautiful dogs. These are my favorite things, favorite tree: pineapple tree or apple tree. You like apples, Jenn?
Jennifer: Mm-hm.
Liz: Yeah? Do you like red apples or green apples?
Jennifer: Applesauce.
Liz: Applesauce. Then you don't know what color it is anymore. Have you ever picked apples at an apple orchard?
Jennifer: What time will we be done?
Liz: It will probably be like ten minutes, 15 minutes.
Jennifer: I don't know. What time am I going to get my picture taken?
Liz: Well maybe a little before two o'clock.
Jennifer: And that's it?
Liz: Yeah. Do you like having your picture taken?
Jennifer: Mm-hm.
Liz: Yeah? You have a big smile. I was noticing your pink nails like my red nails. Do you always paint your nails?
Jennifer: I always paint my nails when I'm appropriate.
Liz: When appropriate?
Jennifer: When appropriate and not... sometimes...
Liz: Mm-hm.
Jennifer: (inaudible).
Staff: What do we always say? Squat right?
Liz: Squat.
Jennifer: Squat means nothing. I get nothing because ... this is my best year yet.
Liz: This is your best behavior year yet? Well congratulations!
Jennifer: Best year yet, this is my best year yet.
Staff: You're right.
Liz: So you have your nails painted a lot because it's a good year.
Jennifer: Uh-huh.
Staff: Tell her what matches your fingernails right now.
Jennifer: Toenails.
Liz: Your toenails too?
Jennifer: I got this done and that done.
Liz: Yeah. Jenn, do you always do pink nails?