What is "Disability Studies"?
Disability is a cultural experience. Disability Studies uses an interdisciplinary perspective to explore the disability experience. Disability Studies questions concepts such as "normalcy" and analyzes "differences" through origins, institutions, policies, philosophies, culture, and traditions. The concept of disability has legal, medical, political, social, and temporal variations and implications. Similar to African American Studies, Gender Studies, Women's Studies, and Native American Studies, Disability Studies developed through the emergence of a Social Justice and Civil Rights Movement – the Disability Rights Movement.
Disability Studies at Temple
In exploration of the breadth of intersectional concepts, Disability Studies at Temple University is an Interdisciplinary collaboration: a cluster of curricula including mini-series lectures, performances, symposia and more. Disability Studies at Temple is inclusive programming with great diversity in both scholars and students. A significant portion of our programming is freely available to the community at large.
Email us at iod@temple.edu to request more information about Disability Studies at Temple University.
Disability Studies Programs, Events, and Resources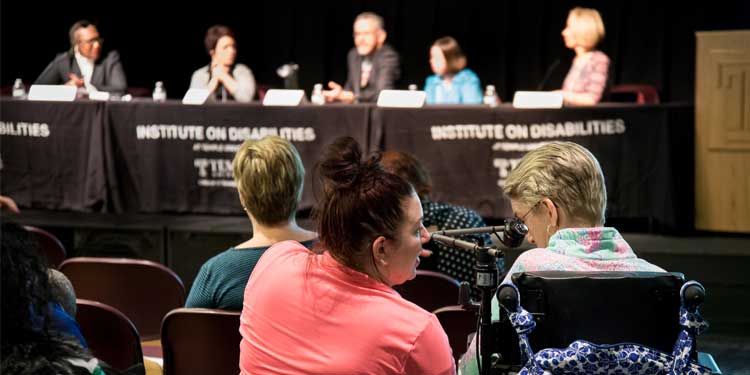 Disability and Change Symposia
Related Curricula
The Institute on Disabilities has a cluster of Disability-Studies related curricula including:
Faculty and Scholars
Disability Studies has over 50 affiliated faculty and graduate students:
Disability Access at Temple:
A Unique History
Institute on Disabilities has more than 40 years of contributions including:
Scholarly Resources
Other disability-related materials
Disability Rights Special Collections at Temple's Urban Archives