About Timothy O'Donovan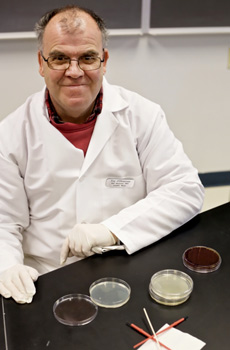 Interviewer: Kaitlyn Guild, Center for Creative Works
Timothy O'Donovan is an artist based out of The Center for Creative Works. He has worked in a variety of mediums and methods and he has a diverse range of image making, from geometric abstractions to representational renderings of famous architecture. His primary focus currently is landscape, capturing both places he has traveled to and places he has heard of. O'Donovan has travelled the world many times with his family, and lived in Colorado, New Orleans, South Africa, New Zealand, and Wales. He has exhibited and sold his artwork in galleries across the country.
He says,  I feel more in control of my life and my emotions when I make a piece of artwork. If there is too much tension, I paint and draw while listening to natural music, sounds of the ocean, and Enya. I am a learning-disabled individual and have been since birth. I've been independent since age fourteen and have been a self-advocate for fifteen years. I have been coming to the Center for Creative Works for five years.
Kaitlyn Guild is a teaching artist at the Center for Creative Works. At CCW Kaitlyn works alongside adults with intellectual and developmental disabilities, assisting in the continuous development of their unique identities as artists and community members.
Timothy's Story
Kaitlyn: Can you tell me a little about yourself, Timothy?
Timothy: Hi, my name is Timothy Michael O'Donovan. I have been learning disabled since birth.
Kaitlyn: What do you do for a living Timothy?
Timothy: I am a student at a non-profit school. Two non-profit schools, I should say.
Kaitlyn: What is your understanding of the changes and events occurring during this time?
Timothy: I have seen a lot of change and a lot of reaction to the Covid-19 scare, because of what happened to the United States. I felt very scared and frightened because I didn't understand the whole concept of the epidemic when I found out I was going to be confined to my apartment because of the virus.
Kaitlyn: Yeah, how did you learn about the virus?
Timothy: I learned about the virus from a link that I got from my Health Department.
Kaitlyn: In your email?
Timothy: Yes.
Kaitlyn: Do you receive information from them often, or was this different?
Timothy: This was different. This was the first time I had ever heard about the scare, about COVID. The funny thing was I didn't understand anything about COVID, I didn't realize I would be on restrictions from everything when I first found out about the Covid-19 scare.
Kaitlyn: Yeah. Well, what do you know about it now? Have you been able to learn a little bit more about it?
Timothy: I learned about how contagious it is, and also, I've noticed all the precautions I have to take.
Kaitlyn: Who have you learned that from?
Timothy: I learned that from being in contact with my apartment supervisor.
Kaitlyn: Wonderful. So, do you ask them a lot of questions?
Timothy: I have leaflets on COVID-19 and on what to do if I do contract COVID-19, what steps I have to take to prevent me from spreading the virus.
Kaitlyn: Awesome, yes it can definitely be a very complicated thing to understand. I heard you say when you first heard about it you were feeling very frightened. Would you like to elaborate on that?
Timothy: I felt very frightened and scared because I thought somebody was going to come after me.
Kaitlyn: What would they come after you for?
Timothy: That they thought I could not cope with it.
Kaitlyn: Okay.
Timothy: I also heard other fragments about it from my family.
Kaitlyn: Was there anything that helped to ease your fear or anxiety around it? Was there anything that made that better?
Timothy: The way I make myself feel less anxious and stressed is when I thought about getting an animal.
Kaitlyn: Yeah! Tell me a little about your animal.
Timothy: My animal is a... I adopted him from a previous owner who gave him up malnourished. She kept him locked up in a barn with hardly any food or water.
Kaitlyn: What kind of animal is it, Timothy?
Timothy: It's a kitten that I adopted. I got him from some church friends of mine who used to go to church with me weekly. I ended up adopting him on the night of my mom's birthday and my old country's birthday.
Kaitlyn: What is his name?
Timothy: His name is Twinkles!
Kaitlyn: Twinkles! That's a great name!
Timothy: I gave him the name Twinkles because I remember playing the piano, my first piano piece on my own, and I learned the chords and everything on the piano, and I remember I ended up playing Twinkle, Twinkle Little Star.
Kaitlyn: That's beautiful Timothy! What a great name.
Timothy: I thought about the name and that was the first name I came up with. I also thought about my father because the day my father passed away, I found out what happened to him and we had his funeral about a month later. I remember one of my mom's bridesmaids' husbands said, "The way your father looks at people, he looks down on every one of you, especially Timothy, the way he looks down at Timothy, is by winking his eyes.
Kaitlyn: Wow. What a beautiful way to remember your father.
Timothy: He also reminds me of my father because before my father passed away, he had great silver hair and my cat has a multi-color fur coat — a mixture of gray and white.
Kaitlyn: That is such a special memory and way to remember your father.  
I have a question. Can you describe a typical day in your life before the virus?
Timothy: A typical day before the virus, I used to take SEPTA transportation from my apartment. I used to get up in the morning and shortly after I had my breakfast and my morning medications that I am self-medicated for, I used to leave my apartment on my own and I used to walk about a block and a half up from my apartment and I used to wait for SEPTA transportation to take me to my art workshop program.
 
The Center for Creative Works
The Center for Creative Works is a unique work environment with a goal of developing creative work potential and cultural identity for people with intellectual disabilities. Creative Works combines supported studio art development with work opportunities in a progressive art studio and in community-based settings.