About Diane Bishop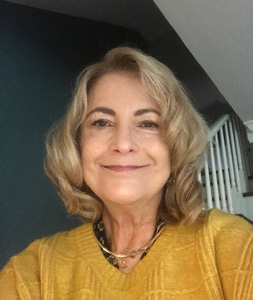 Interview conducted by Marcie Bramucci in 2020
Location: Zoom
Diane Bishop was raised on the North Shore of Massachusetts, Diane is the oldest of six siblings and is considered the "creative one." In 1995 she was on the fast track to senior management at a large pharmaceutical company when the combination of stress, deafness and an autoimmune disease resulted in permanent disability. It took a while before she realized she didn't really miss the high tech industry and she was grateful for the opportunity to enjoy the arts again.
Diane studied photography and traveled all over the world as an award-winning nature photographer. When she could no longer carry the equipment and lost the sight in her right eye, she returned to her first love of textile arts. Diane had been sewing and embroidering most of her life and won her first blue ribbon for an original embroidery at the age of 8.
She resides with her husband of 28 years in Phoenixville PA. They have a son and daughter and 3 grandchildren. Diane hopes her embroidery will be passed down to her grandchildren and considers it her legacy.
Marcie Bramucci is an artist and arts producer, with experience in theatre, film and television. As the Director of Community Investment at People's Light, she seeks out opportunities and resources for increased access, engagement and connection within and across community. On behalf of People's Light, she is the proud recipient of Art-Reach's 2015 Cultural Access Award for the theatre's relaxed performance initiative and inclusive practices. She leads a cohort of area theatres who collaborate toward increased arts access and inclusion. Marcie has advanced degrees in Theatre Arts (Villanova) and Arts Administration (Columbia) and lives in Malvern with her husband and three little ones.
Leigh Jackson was born and raised in Washington, DC. She has worked as a newspaper reporter and editor and, now, as the Director of Patron Experience at People's Light, a Malvern-based theatre, where she works to make sure all patrons feel welcome. She particularly enjoys making theatre spaces as accessible as possible.
Diane's Story
MARCIE
Could you introduce yourself, your name, if you're comfortable sharing your age, where you live, and describe your experience of disability?
DIANE
I am Diane Bishop. I live in Phoenixville with my husband, Dave. I'll be 62 at the end of this month. And we have two children, one that lives in San Diego, and one that lives in Malvern, Pennsylvania. And we have two grandchildren and another one on the way.
I have been on disability since 1995 for a combination of reasons. I have an autoimmune disorder. I am severely hearing impaired, bilaterally. And I have heart issues, kidney issues, asthma. The list continues. And then recently, I think four years ago, I lost the eyesight in one eye. I have multiple herniated disk in my neck. So, life is challenging, even without COVID. And my age makes me particularly vulnerable to COVID.
Somebody said something to me recently, and it resonates with me. It's not that our days are that much different than they were pre-COVID. It's just that there's nothing to look forward to. No friends, no theater, no trips. That's the challenging part. That, and getting over the fear. Of course, there's other challenges too.
MARCIE
Could you express to us what a typical day looks like now, for you? And maybe, what did a day look like pre-COVID?
DIANE
I have insomnia. So, I may go to bed at 11 o'clock, but then I'm up between 2:00am and 3:00am for a couple of hours. And then I go back to bed. And I actually sleep a lot, on and off, during the day. I may do chores around the house. Easy chores, like laundry. But I have somebody come in to clean the house. So, I can't do any heavy cleaning. It's hard for me to kneel. I often have a lot of joint pain.
I do cook dinner. My husband's recently retired, so he's around a lot, and he's working on the outside of the house. So, we kind of go our own way during the day, and then we'll have dinner together. We usually watch TV in the evenings. I take a two- or three-hour nap in the afternoon. And that's about it.
Even before they started to close everything down- it was actually March 3 - there was a doctor diagnosed in King of Prussia, and he had been traveling. And as soon as I saw that on the news, I thought, "oh my God." He could have stopped at Dunkin' Donuts for coffee. And he could have gone to Wawa for a sandwich for lunch.
People's Light
People's Light, one of the largest professional theatres in Pennsylvania, forges cultural and civic connections throughout our rapidly growing region. In the landscape of American regional theatres, we count ourselves among the few located outside of a metropolitan area. Our home in the heart of Chester County places us at a unique crossroads of rural, urban, and suburban populations. Throughout our year-round season, we produce contemporary plays, classics, new forms of music theatre, and original work. Beyond the stage, we host a wide array of cultural experiences and education programs that inspire meaningful engagement with, and sustained investment in and from, our surrounding communities.
The seven-acre campus at People's Light features a restored, 18th-century farmhouse, two black box performance spaces, scenic shops, classrooms, rehearsal space, picnic areas, and our administrative offices. We also serve as a local polling place. The farmhouse is home to our for-profit business: a premier event venue, The Farmhouse at People's Light, and an on-site restaurant, The Farmhouse Bistro. 82,000 people visit our campus each year. Nowhere else in the region can patrons see exceptional theatre, attend a town-hall discussion, have dinner with friends, take a class, celebrate a wedding, and cast a vote, all in one place.
Our ties are local, our reach is national. We surround our productions with activities that connect us with our neighbors, weaving the onstage work into the fabric of community life. We lead the nation in accessible theatre practices, and strive to create programs and performances that can be enjoyed by everyone. As part of a longstanding history of new work development, People's Light commissions and produces world premiere plays, many of which go on to additional productions across the country. We established a nationally recognized model for locally inspired plays that aim to awaken a greater collective consciousness of our American experience.