About Haley Shiber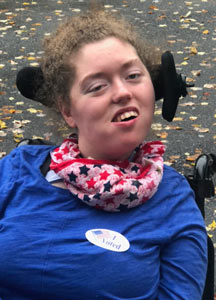 Interview conducted July, 2020
Location: Zoom
Haley F. Shiber is an Augmentative and Alternative Communication User, Storyteller, Artist, Exercise enthusiast, Advocate
Haley has been an active Augmentative and Alternative Communication user since she was 12 months old starting with pic symbols and gradually advancing as she aged. She has used many different devices over the years. Currently, she uses an Accent 1400 for her voice with the Minspeak Unity Language system. She accesses her device using a head switch mounted by her left cheek. The device uses a specialized automatic scanning pattern she has memorized. With her low vision but vast vocabulary she uses an auditory prompt in her right ear to hear each symbol she scans as she goes.
Haley is an art enthusiast, creating new paintings every week with her art friends in Art Therapy Express. She loves reading and is starting a new business to promote advocacy and literacy. She enjoys Zooming with her Temple University ACES friends, working hard on projects and committees through the ACES Program.
When Haley is not working on her dream of entrepreneurial opportunities, she can be found zooming family and friends, gardening, reading the classics, riding her adapted bike, enjoying music of many genres, walking on her treadmill in her walker, text messaging, emailing, watching movies, and creating art on Zoom. She is a very determined and hard worker. She participates in occupational therapy, speech therapy, physical therapy and helps undergraduate students at the University of Delaware learn more about people with disabilities. She is a proud advocate and is on many committees to represent the disability community.
Hali Strickler is the AAC Services Coordinator for TechOWL, a program of the Institute on Disabilities at Temple University. Hali provides AAC and assistive technology supports and services to individuals with complex communication needs. Hali is a licensed and certified speech-language pathologist with experience in the public school setting.
Haley's Story
Hali
Haley, what was a typical day like for you before COVID-19?
Haley
Before COVID-19 I went to the YMCA to [?] and exercise with my friends at Zumba and chair yoga. I talked with friends and socialized. I visited the art studio and saw my old friends. It was fun. I spoke at legislative hall as an advocate. I went out to dinner with my family and visited my grandmother and other family. I went to the movies with my friends. I was always out and about.
04:13
Hali
Describe your day now. What has changed?
Haley
During Covid-19 I have had to stay in my house. I am not able to go to the YMCA or art studio. I Zoom meet with my art friends to create art. I Zoom with my YMCA friends to see them. I Zoom meet with my Temple University friends. I cannot visit my family. It makes me feel lonely and sad. I miss my family and friends, but I get excited to text and video call them and see pictures. I can't see them, so I text them more. Thank goodness for technology or I would not see anyone.
Institute on Disabilities
The Institute on Disabilities at Temple University is one of the sixty-seven University Centers for Excellence in Developmental Disabilities Education, Research and Service funded by the Administration on Developmental Disabilities, U.S. Department of Health and Human Services. Located within the College of Education and Human Development at Temple University, the Institute is a vibrant, diverse organization with more than 40 staff members, including students and is considered a national leader in disabilities, policy analysis and inclusive education.