About Rebecca Bricklin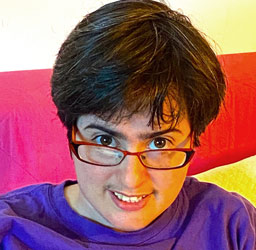 Interview conducted by Marcie Bramucci in 2020
Rebecca Bricklin Colorful and dramatic, Rebecca aspires to become a published artist. She is working diligently to complete her first comic book featuring her "chakra girls and boys"—a series of characters each embodying the unique characteristic of their corresponding chakra energy centers in the body.
Rebecca loves the limelight, and is happy to be interviewed anytime, anywhere.
About Alexandra Bricklin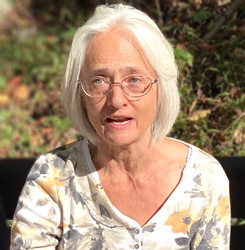 Alexandra Bricklin Passionately dedicated to improving the lives of people who have historically lived on the fringe of society, Alexandra has spent the last 35 years of her life, parenting and promoting Rebecca's ultimate journey into "independence."
Alexandra is also a singer/songwriter currently creating and publishing podcasts with her partner David Namerow that feature original songs and poetry. "Memories in the Key of Life" can be found on Apple Podcasts.
Rebecca's Story
MARCIE
I'm Marcie. I work at People's Light. We are partnering with the Institute on Disabilities at Temple University on this project to hear about life for individuals with disabilities now in the time of COVID.
REBECCA:
I'm Rebecca Bricklin, and this is my mom, Alexandra Bricklin. I am 35. And she's 64, going on 65.
ALEXANDRA
Sometimes I function as Rebecca's translator, because sometimes her language is diffuse. I will try to clarify, if she needs it.
MARCIE
Rebecca, what is a typical day for you, now, in COVID? And then I'd also love to talk about what a day was like before COVID. Are there any differences?
REBECCA
My structure has been gone. I used to go in public places and participate in a lot. I would go to Kelly Café on Sundays. And Also, on Transitions on the weekdays. (HUMAN SERVICES INC, TRANSITIONS SUB-ACUTE COMMUNITY BASED PARTIAL HOSPITAL PROGRAM)
ALEXANDRA
She had settled into a routine about three days a week, 9 am to 2:30 pm. Something like that. They loved her. She was like a rock star, because she participated in the groups and there was -
REBECCA
Yeah, I was a rock star. I was, like, wanting to be a peer mentor.
ALEXANDRA
And then COVID. Corona came and everything stopped. They didn't offer telemedicine or anything like that, except for her psychiatrist, who calls once a month and renews her prescriptions. And then we also volunteered at a café on Sundays, in Havertown. It supports people with disabilities. That left. She had karate twice a week. And that stopped.
REBECCA
I also did my chiropractor on Mondays. But now I do it on Saturdays, by appointment.
ALEXANDRA
Chiropractor was the first thing that came back. But it came back as a scheduled appointment, rather than a walk-in. Rebecca liked it, and then it became pretty redundant. She got tired of Zoom. We picked up fishing, which went a really long way.
REBECCA
Fishing for minnows and crayfish.
ALEXANDRA
Then she got frustrated -
MARCIE
Where do you go fishing?
REBECCA
Lots of places. I spent a lot of time researching fishing.
MARCIE
In Chester County? Outside of Chester County?
ALEXANDRA
Oh, we traveled further. See, I kept creating new structures to match Rebecca's need for high structure. Rebecca is always interested in novelty. And then novelty, once it becomes routine, wears off. So I keep creating new structures. Fishing was initially interesting, until she got frustrated. She was only able to catch what they call crappies. Little fish. She really wanted to catch a rainbow trout.
People's Light
People's Light, one of the largest professional theatres in Pennsylvania, forges cultural and civic connections throughout our rapidly growing region. In the landscape of American regional theatres, we count ourselves among the few located outside of a metropolitan area. Our home in the heart of Chester County places us at a unique crossroads of rural, urban, and suburban populations. Throughout our year-round season, we produce contemporary plays, classics, new forms of music theatre, and original work. Beyond the stage, we host a wide array of cultural experiences and education programs that inspire meaningful engagement with, and sustained investment in and from, our surrounding communities.
The seven-acre campus at People's Light features a restored, 18th-century farmhouse, two black box performance spaces, scenic shops, classrooms, rehearsal space, picnic areas, and our administrative offices. We also serve as a local polling place. The farmhouse is home to our for-profit business: a premier event venue, The Farmhouse at People's Light, and an on-site restaurant, The Farmhouse Bistro. 82,000 people visit our campus each year. Nowhere else in the region can patrons see exceptional theatre, attend a town-hall discussion, have dinner with friends, take a class, celebrate a wedding, and cast a vote, all in one place.
Our ties are local, our reach is national. We surround our productions with activities that connect us with our neighbors, weaving the onstage work into the fabric of community life. We lead the nation in accessible theatre practices, and strive to create programs and performances that can be enjoyed by everyone. As part of a longstanding history of new work development, People's Light commissions and produces world premiere plays, many of which go on to additional productions across the country. We established a nationally recognized model for locally inspired plays that aim to awaken a greater collective consciousness of our American experience.