About Jin-Yun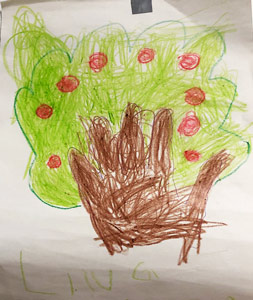 Interview conducted in 2020
Jin-Yun is a single mother of Ling, a kindergartner. Ling is on the Autism spectrum.
Jin-Yun's Story: English
Interviewer
Where do you spend the majority of your time and whom do you spend it with? How are you coping with being confined? What are the challenges?
Jin-Yun
When my daughter Ling was diagnosed with Autism at age 3, it felt like my world was spiraling down. Ling's father and I couldn't come to terms with this reality; I was left with neither family support nor financial means. My daughter and I moved in with relatives. They kindly provided us with a room in a very small house with one bathroom to share between three adults and two children. I was not able to work since my daughter required my full-time care. I was all she had, and she was my world.
The following years were difficult but productive. With the help of good friends and therapists, my daughter gradually grew from a little creature of fears into a happy and healthy little girl. She enrolled in a pre-school for Autism and I was able to work part-time. But on the home front, things continue to be challenging. When COVID hit and schools closed, adults lost jobs and were stressed out about finances. We were all stuck at home and Ling and her little cousin were in constant conflicts, to the point that the cousin would lock herself in the one room she shared with her parents to avoid Ling. Being on the spectrum, Ling lacked the abilities to regulate her emotions and understand the consequences of her actions. She felt hurt and angry. The tension between adults grew and we felt no longer welcome. It is simply too much to ask of other people's infinite patience and understanding. Before the lockdown, I used to take Ling out to parks or visiting friends as much as I could, just to give my relatives some family space. Now we could no longer do that.
Jin-Yun's Story:
畅所欲言

(Mandarin)

锦云

请描述你在COVID-19时期内毎天与谁一起渡过?如何面对被局限在这空间里?有那些挑战?

我的女儿玲在3岁时被诊断有自闭症,面对这个事实和许多未知,她的父亲和我的意见不一致。在走投无路之下,我和我的女儿只能搬进了亲戚家的一个小房间,三个大人和两个小孩合用一间浴室。我需要全天照顾我的女儿,所以不能工作。她只有我,我也只有她,我们相依为命。

接下来的几年虽然很辛苦,但是在许多治疗師和好友的帮助下,我的女儿從一个惊慌的孩子成长为一个健康快乐的小女孩。她进入了一个自闭症的学校,我也找到了一些临时的工作。但是疫情和停学改变了整个情况。大人们面对失业和经济上的压力,五𠆤人都关在家里。玲和她的表妹不断地起争执,表妹成天躲在她和爸妈的房间里,不愿易和我女儿玩。因为她的自闭症,玲不懂得如何处理她的情绪和她的行为所引起的后果。在疫情之前,我尽量带我女儿出门去公园或是探访朋友,能给亲戚们一些家庭的空间。但是现在也无处可去。大人之间因此起了许多矛盾,气氛变得很紧张。但是又如何能期待他人无止无尽的包容?
The Chinatown Disability Advocacy Project (CDAP)
The Chinatown Disability Advocacy Project is a grassroots group of parents and community members who educate and advocate for inclusion in education, healthcare, and social life. We hold monthly workshops, education sessions and community activities, so people have information to best plan for themselves and their families. You can follow the Chinatown Disability Advocacy Project on Facebook to find out about our activities.
华阜残障倡导会是一个由家长与社区成员共同组成的团体。我们的使命是运用教学和拥护的方式,提倡在教育,医疗保健,和社交生活的社会融入。我们每个月提供讲座,教育培训,和社区活动,以期提供资源,帮助大家和家人更好的计划未来。请您在臉書上跟随Chinatown Disability Advocacy Project 来参与我们的活动。