About Dynah Haubert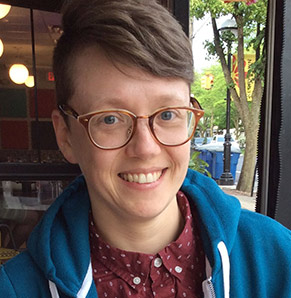 Interview conducted by Liam in 2020
Dynah Haubert is a white, queer, disabled activist and attorney who celebrates disability as a rich source of community, culture, and identity. In COVID times, Dynah misses crip dance parties and seeing art.
Dynah's Story
Liam
Hi Dynah.
Dynah
Hello.
Liam
Dynah, describe a typical day in your life before COVID and describe now what has changed?
Dynah
I live in the city and I work full time, or I did. And I go to work, about a twenty-minute walk from my house, or I take the bus. And I sit in an office all day and do lawyer things and then walk or take the bus home. And try to cram in feeding myself and taking care of myself and socializing and everything in the few hours after work that I have free. And on the weekends, I tended to spend a lot of time sleeping and recovering from the week. Now I'll preface by saying I actually quit my job in the summer. I did quit my job during COVID but it wasn't really COVID related and I didn't lose my job due to COVID like a lot of folks did. So, I'm...I realize that I'm super fortunate to have been able to have a choice in the matter.
So, for a few months I was working from home and I noticed like instantly, like the first week of working from home that it was so much more accessible to me and it was accessible in that it allowed me more time to just do life things. I still felt a little pressed for time but I didn't feel like I had to scramble all the time like I did when I was working out of the house. I had more time to cook and more time to just take my time and that was really great.
Liam
Nine months in, do you still feel the same way?
Dynah
I do, I mean, there are definitely a lot of other things about nine months of COVID that are hard and we'll get into that, maybe. But sort of logistically I think I appreciate it so much that I'm like oh, it will be very difficult for me to go back to working at an office 40 hours a week and commuting and everything. So, I think as it increasing seems like this is a super long haul situation for the world or particularly for the US, I don't think I'm going to have to be very concerned about having to be in an office anytime soon and I certainly hope that there is more room to move in a lot of different areas of life to more flexibility in terms of virtual participation and so I hope that that carries on in the work realm.
Liam
I know you have a studio or one bedroom. How do you fell about being confined to that space?
Dynah
I think if my space was smaller it would be harder. It's actually a pretty big area. It is a studio. We'll say, like I live by myself and if I lived with somebody else in this space that would be really hard. I know friends in NYC who live in a pretty small studio with their partner. And my friend calls me a lot from the bathroom, and is like "yeah, I spend a lot of time hanging out here on the bathroom floor". [Laughs] So I'm very glad I'm not in that position. And I feel I have a good amount of space and its always been important to me to continually try to make my space as accessible and comfortable for me as possible and I think this time has like just impressed upon me the importance of that. So, I'm glad that I have space and that its all for me
My feelings about Zoom sort of go back and forth. When I'm in them they're really good. But in between, I just think of like everything I'm missing, kind of, like the in-person community elements.
Liam
How are you staying connected to friends and loved ones?
Dynah
My feelings about Zoom sort of go back and forth. When I'm in them they're really good. I Zoom with friends in disability community and I go to events. Like the other day I went to this great talk about disability justice and COVID that had a couple of awesome authors who I love who were the speakers, and it was really cool. So, I think like, when I'm in those spaces, I tend to really appreciate it and enjoy myself. But in between, I find it hard to get excited about a Zoom thing because I just think of like everything I'm missing, kind of, like the in-person community elements. So, I guess the moral there is that I need to push myself to go to more Zoom things if I actually find that I do enjoy them while I'm there.
Liam
I attended one of the disability movie things happening in CA, and there was no way I would do that before this year. You can just connect with your friends in NY or wherever at the drop of a hat.
Dynah
That's true. That's really awesome. I think normally stuff like that comes with, at least for me, a little element of like it's too bad we can't be in person. But now, when people aren't travelling, it's kind of like well, this is all we've got. So, I guess from that point of view it can be more of a joyful thing.
Liberty Resources
Liberty Resources, Inc. is the Center for Independent Living in Philadelphia, which advocates for and works with Persons with Disabilities to ensure their civil rights and equal access to all aspects of life in the community. Liberty Resources provides five core services: Advocacy, Information and Referral, Peer Support, Skills Training, and Transitioning/Youth Services. Click here to read more about the core services. Liberty Resources is one of the first Centers for Independent Living in Pennsylvania