About Robert Evans
Interview facilitated by Hali Strickler, July 2020
Location: Family home in West Grove, Pennsylvania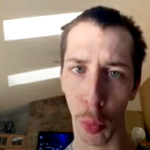 My name is Bobby Evans and I live in West Grove, PA. I am so happy to be selected for this project and be involved in making a change for those with disabilities like myself.
I went to school in Downingtown and then in my freshman year my parents bought a home in Avon Grove that better suited our needs. I am so happy they did because I enjoyed every day with my classmates. I went to all my proms and dances in a large stretch limousine with my friends and our prom dates.
I gave the commencement speech at my graduation and my entire class of 2016, the teachers and audience all stood up at the end, it was the best feeling in the world to be so accepted and embraced by so many people right in front of me.
Hali Strickler is the AAC Services Coordinator for TechOWL, a program of the Institute on Disabilities at Temple University. Hali provides AAC and assistive technology supports and services to individuals with complex communication needs. Hali is a licensed and certified speech-language pathologist with experience in the public school setting.
Robert's Story
00:05
Hi. My name is Robert Evans. I am 24 years old. I live in a little town in West Grove, Pennsylvania. I will tell you how COVID-19 came into my life and crashed it.
00:24
Now I will talk to you about a day in my life and what it looks like in this COVID life we are living with right now. Where should I start my COVID-19 story? I know where I will start my COVID -19 story at.
00:39
A day in my life is like, I get up at 9:30 am on a weekdays and 9:00 am on weekends because I don't have nothing to do because everything is online now because this COVID thing we are living in now. I will get back to that in a second. I will start with the weekdays. I said I get up at 9:30am on weekdays. First, I go to the bathroom. Second, I go back in my bedroom to undo my talker and my phone from overnight charging. Third, I go on my PC for a little bit to check emails I got from overnight, then I go online. Four, I come out to have lunch, then I go back to my room to wait until my meeting on Zoom with Philly. Then after my meeting I go back on my PC until its time for dinner. Then I go to watch a movie until its time go to bed. That's a day on a weekday. You can tell I don't go nowhere in this COVID life. We are living it now.
I told you what I do on weekdays. Now, I will tell you what I do on weekends. The same thing - like a loop. I am sick of doing things online, but that is not the end of my COVID-19 life story, yet.
Institute on Disabilities
The Institute on Disabilities at Temple University is one of the sixty-seven University Centers for Excellence in Developmental Disabilities Education, Research and Service funded by the Administration on Developmental Disabilities, U.S. Department of Health and Human Services. Located within the College of Education and Human Development at Temple University, the Institute is a vibrant, diverse organization with more than 40 staff members, including students and is considered a national leader in disabilities, policy analysis and inclusive education.