About Isaac Merz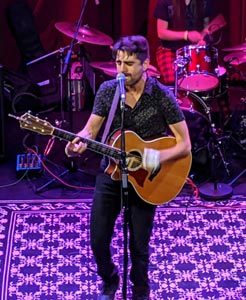 Interview conducted by Marcie Bramucci (People's Light), 2020.
Location: Zoom, Pittsburgh, Pennsylvania
Isaac Merz was born in Asuncion Paraguay and adopted to the United States when he turned one. Born with a missing left hand and missing parts of both of his feet he has learned from an early age on how to adapt and invent creative ways to get things done. Raised by parents that embraced a "no limit" mentality, Isaac defied his doctors' opinion that he would not be able to walk or participate in many normal day to day activities. Not only did Isaac walk, he played sports his whole life, earned a black belt in Karate, studied theater, and taught himself how to play the guitar. Isaac found that living as a singer songwriter was a fantastic way for him to express and share himself with the world. By taping a pick to his left arm he had created a unique way to be able to play the guitar the way he heard it in his head. His most notable work is done with his Pittsburgh based band Merz, Miller & the Wolves. Through Isaac's journey of haring his music and unique story, he has found a love and passion for helping others work towards their goals. He has recently worked for certification for Transformation Coaching and is currently writing his first book. Isaac at the age of 38 has turned his life's focus to helping others find and celebrate their own uniqueness.
Marcie Bramucci is an artist and arts producer, with experience in theatre, film and television. As the Director of Community Investment at People's Light, she seeks out opportunities and resources for increased access, engagement and connection within and across community. On behalf of People's Light, she is the proud recipient of Art-Reach's 2015 Cultural Access Award for the theatre's relaxed performance initiative and inclusive practices. She leads a cohort of area theatres who collaborate toward increased arts access and inclusion. Marcie has advanced degrees in Theatre Arts (Villanova) and Arts Administration (Columbia) and lives in Malvern with her husband and three little ones.
Isaac's Story
Marcie
Would you introduce yourself and tell us a little bit about yourself?
Isaac
My name is Isaac Merz, I live in Pittsburgh, Pennsylvania. I'm a singer/songwriter, I also do transformational coaching and I currently work for Whole Foods in Wexford, which is north of Pittsburgh.
Marcie
Thank you, Isaac. So, tell me a bit about what your typical day looks like now, and what it looked like pre-COVID.
Isaac
I do work as an essential worker at Whole Foods. I'm part of the morning team on the produce side of the company, so I bike ride from my apartment at 5 o'clock in the morning to get up to work and start setting everything up at six. I work from six to two four days a week. I then come home and start working on my home recordings for my band, editing videos, I also do videos for my new You Tube channel which revolves around my transformational coaching business that I just launched during these COVID times. I'm also currently writing my first book. So, I have a lot of activities that are revolved around working from home, so I'm very busy during these times.
Marcie
I didn't realize the transformational coaching grew out of the COVID moment. Can you tell me a bit more about that?
Isaac
The timing [of COVID] was perfect. I started on a journey of transformation for myself of self-development, self-understanding and self-awareness. I started really focusing on embracing my uniqueness, and that has been the rock of my coaching practicing. I started feeling pulled to share and help others on their journey and, as I was feeling a sense of progress and progression in my development, COVID hit. I noticed all around me, as the world shifted, a lot of people just seemed to hit panic mode. We live in abundance and we are taught to fear and to live in scarcity, [so] COVID was going to add a lot of pressure to people. So, I thought that this would be a time now to just really step into my own true story, share my experiences and help people that are out there watching YouTube at home anyway, so it's easy to connect those dots, I guess.
People's Light
People's Light, one of the largest professional theatres in Pennsylvania, forges cultural and civic connections throughout our rapidly growing region. In the landscape of American regional theatres, we count ourselves among the few located outside of a metropolitan area. Our home in the heart of Chester County places us at a unique crossroads of rural, urban, and suburban populations. Throughout our year-round season, we produce contemporary plays, classics, new forms of music theatre, and original work. Beyond the stage, we host a wide array of cultural experiences and education programs that inspire meaningful engagement with, and sustained investment in and from, our surrounding communities.
The seven-acre campus at People's Light features a restored, 18th-century farmhouse, two black box performance spaces, scenic shops, classrooms, rehearsal space, picnic areas, and our administrative offices. We also serve as a local polling place. The farmhouse is home to our for-profit business: a premier event venue, The Farmhouse at People's Light, and an on-site restaurant, The Farmhouse Bistro. 82,000 people visit our campus each year. Nowhere else in the region can patrons see exceptional theatre, attend a town-hall discussion, have dinner with friends, take a class, celebrate a wedding, and cast a vote, all in one place.
Our ties are local, our reach is national. We surround our productions with activities that connect us with our neighbors, weaving the onstage work into the fabric of community life. We lead the nation in accessible theatre practices, and strive to create programs and performances that can be enjoyed by everyone. As part of a longstanding history of new work development, People's Light commissions and produces world premiere plays, many of which go on to additional productions across the country. We established a nationally recognized model for locally inspired plays that aim to awaken a greater collective consciousness of our American experience.