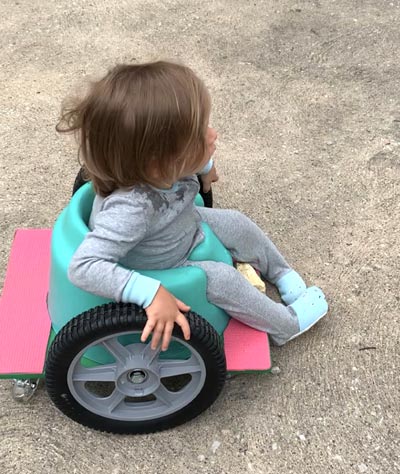 It's the job of TechOWL, the Institute's Assistive Technology (AT) program, to provide Pennsylvanians with the AT devices they need and to offer support as they learn to use them at work, at home and in their community.
Most of these devices are developed and distributed by a wide variety of outside manufacturers.
So, what happens when something that is mass-produced just won't work? TechOWL's CreATe Together program creates it.
Tom Diagostino, TechOWL's Outreach and Training Coordinator began using his own 3-D printer at home to create small, but useful items for people who requested them.
"One day, I was asked to find a device to assist someone to grip a pencil," Tom said. "We couldn't find exactly what they wanted, so I found a pattern, made some adaptations and printed one on my printer." Tom shipped the item and the TechOWL customer was thrilled.
That was the beginning of what was to become one of the Institute's fastest growing projects. To accommodate the influx of requests, Tom with the guidance of Director of TechOWL Kim Singleton, recruited the Franklin Institute, a Philadelphia landmark, as a partner as well as the Makerspace at the Charles Library at Temple University.
"We send them a list of the items that we need, along with the pattern and the raw materials." The Franklin Institute and the Makerspace at Temple's Charles Library have 3-D printers running all day, every day. So, while they demonstrate this new, cutting edge technology to the public, they are making usable items for people throughout Pennsylvania.
We like to call it printing with a purpose.
TechOWL also works closely with TemPO - the Temple University Prosthetics and Orthotics Club, a student-run organization that creates functional and affordable prosthetic devices for those in need. "There are items that TechOWL cannot develop on our own, so we reached out for help."
TechOWL first collaborated with TemPO on the "100-Switch Project." TechOWL's AT Specialist Caitlin McKenney led the team to create switches, 100 in time for the holidays, predominately to help children who cannot conventionally operate electronic toys. More projects such as a zipper latch aid followed and on April 13th, the team will host a Laser Cutting Key Guard workshop.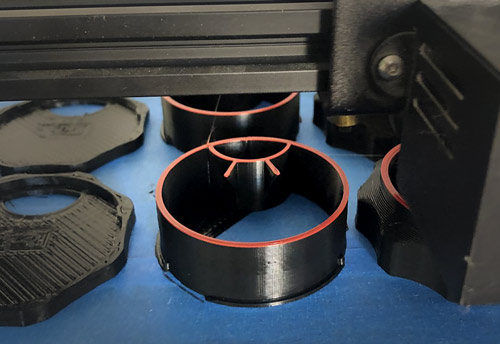 Other CreATe Together projects use more than 3D printing technology, including a PVC walker for the beach, currently being built by a group of Temple University Occupational Therapy students. Soon, with the assistance of Alanna Raffel, TechOWL's Occupational Therapist and co-lead of the CreATe Together project, the online catalog will include sewing designs, PVC designs and laser cutting files.
"The items designed, produced and shipped by CreATe Together allow people to more effectively, and more joyfully in some cases, live their lives at home, at work, in school and in the community."
More information about the CreATe Together project can be found on the TechOWL website.