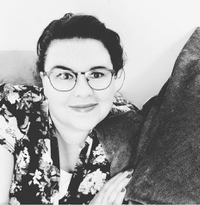 Grace Cooper, Research Assistant at the Institute on Disabilities at Temple University, College of Education and Human Development has been named an Emerging Leader by the Association of University Centers on Disabilities (AUCD).
Every year, AUCD recognizes young professionals from across the country as Emerging Leaders. Each standout young leader shares all AUCD members' commitment to civil rights and social justice for people with intellectual and developmental disabilities.
Grace joins others included on the AUCD Emerging Leaders Map. According to AUCD, this year's map Promoting Health Equity: Identifying Access Barriers and Protecting Rights to Services for People with Disabilities, "showcases the many diverse ways that emerging leaders are working to enhance access for people with disabilities and facilitate dialogue and collaboration between centers."
In addition to her responsibilities at the Institute, Grace is a PhD candidate in Anthropology at Temple University, and she is a Research Fellow at the Public Policy Lab at Temple University. Read Grace's Emerging Leader profile.