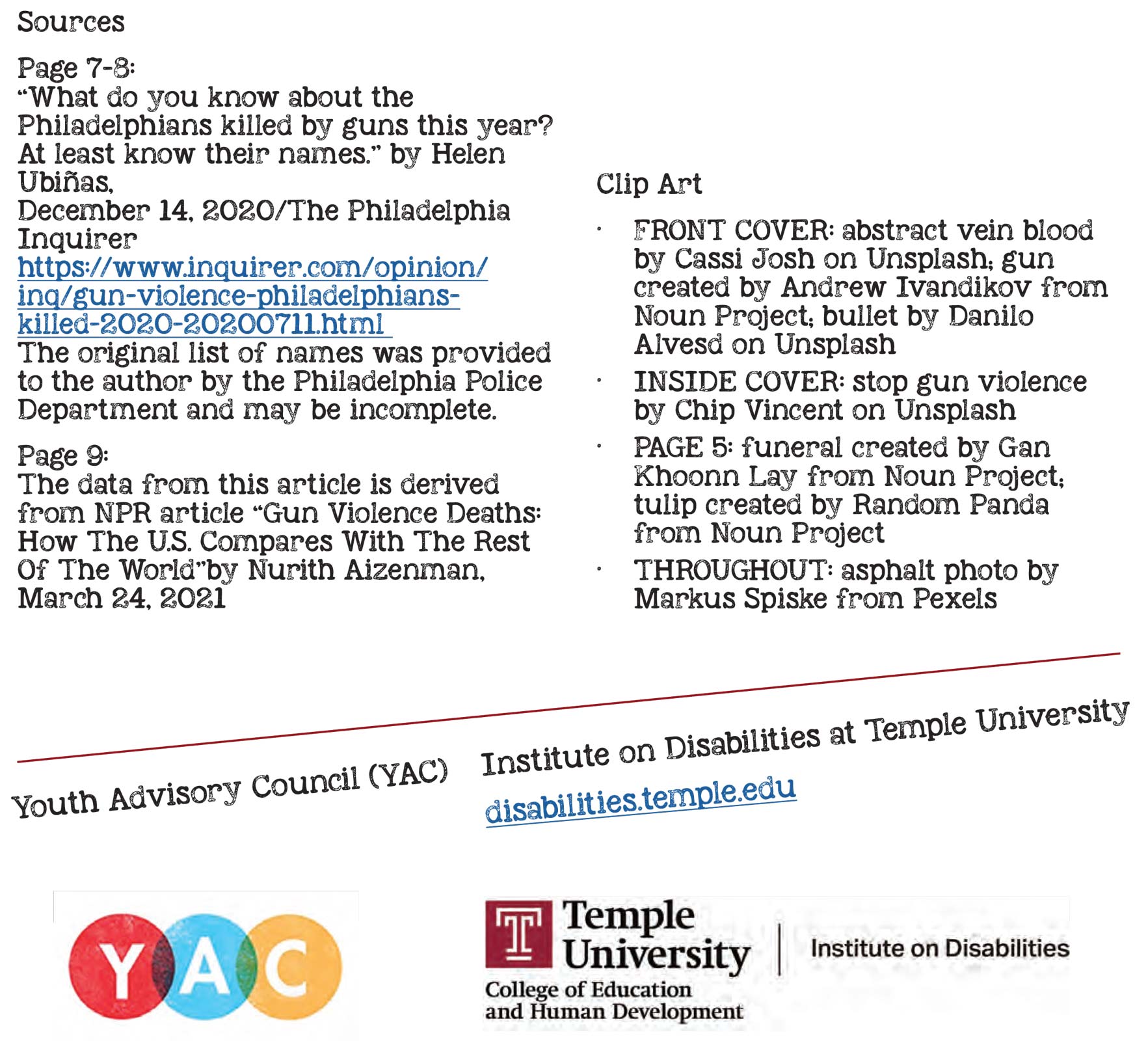 About the Youth Advisory Council
Sources
Page 7-8
"What do you know about the Philadelphians killed by guns this year? At least know their names." by Helen Ubiñas, December 14, 2020.
The Philadelphia Inquirer https://www.inquirer.com/opinion/inq/gun-violence-philadelphians-killed-...
The original list of names was provided to the author by the Philadelphia Police Department and may be incomplete.
Page 9
The data from this article is derived from NPR article "Gun Violence Deaths: How The U.S. Compares With The Rest Of The World"by Nurith Aizenman, March 24, 2021.
Clip Art
Front Cover: Abstract vein blood by Cassi Josh on Unsplash. Gun created by Andrew Ivandikov from Noun Project. Bullet by Danilo Alvesd on Unsplash
Inside Cover: Stop gun violence by Chip Vincent on Unsplash.
Page 5: Funeral created by Gan Khoonn Lay from Noun Project. Tulip created by Random Panda from Noun Project.
Throughout: Asphalt photo by Markus Spiske from Pexels.
Youth Advisory Council (YAC)
Institute on Disabilities at Temple University
The YAC is made possible by generous support awarded to Temple Contemporary at the Tyler School of Art and Architecture from the Philadelphia Foundation's Fund for Children Grants Program.
Copyright © 2021 YAC/Institute on Disabilities at Temple University