C2P2 2021
Learn to work with policymakers to make a difference in the quality of life for people with intellectual disabilities and/or on the autism spectrum.
C2P2 is a free program for
Family members of a school age child with an intellectual disability and/or on the autism spectrum;
People with an intellectual disability and/or on the autism spectrum.
Become a LEADER in your community.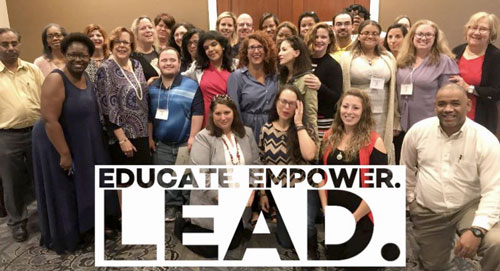 2021 session dates
January 29 and 30
February 26 and 27
March 19 and 20
April 23 and 24
May 14 and 15
June 4 and 5
June 25 and 26
August 27 and 28
September 17 and 18
Session Times
Fridays: 4 PM - 9 PM
Saturdays: 9:30 AM - 3 PM
Additional Introductory Session Required
In addition to nine weekend sessions, participants are required to attend ONE of the following introductory sessions:
Saturday, January 23, 2021 from 11 AM - 12:30 PM
Monday, January 25, 2021 from 5:30 PM - 7 PM
Wednesday, January 27, 2021 from 7 PM - 8:30 PM
Participants Will Learn
About local, state and national issues affecting people with disabilities;
To foster a partnership between people who need supports and services and those who make policy and law;
To advocate for themselves and others;
To teach policymakers a new way of thinking about people with disabilities.
Topics
History of the Self-Advocacy and Independent Living Movement
History of the Family Movement
Visioning for a Preferred Future
Best Practices in:

Early Intervention
Inclusive Education
Transition
Employment
Community Inclusion

Federal, State and Local Laws and Regulations
How to effectively educate Legislators
How to run a meeting
How to serve on a Board of Directors
Effective Communication
Conflict resolution
Assistive Technology
Waivers
Community of Practice in Supporting Families and in Employment
Community Engagement
Community Organizing and Resource Development
Requirements
Applicants MUST commit to attending both sessions - all nine weekends, plus one introductory session
Attendees must review all materials before and after each session
Homework will be assigned and must be completed
More Information
C2P2 is free but only a limited number of applications will be accepted.
Application period ended January 8, 2021. All applicants will be notified if they were accepted, during the week of January 11, 2021 via email.
Funded by Pennsylvania's Office of Developmental Programs.
Contact Us
Cathy Roccia-Meier, Institute on Disabilities Project Director of Leadership Development
cathyRM@temple.edu
Voice: 215-204-1772 | TTY: 215-204-1805